May, 2017
Genetically driven hyperglycemia increases risk of coronary artery disease separately from type 2 diabetes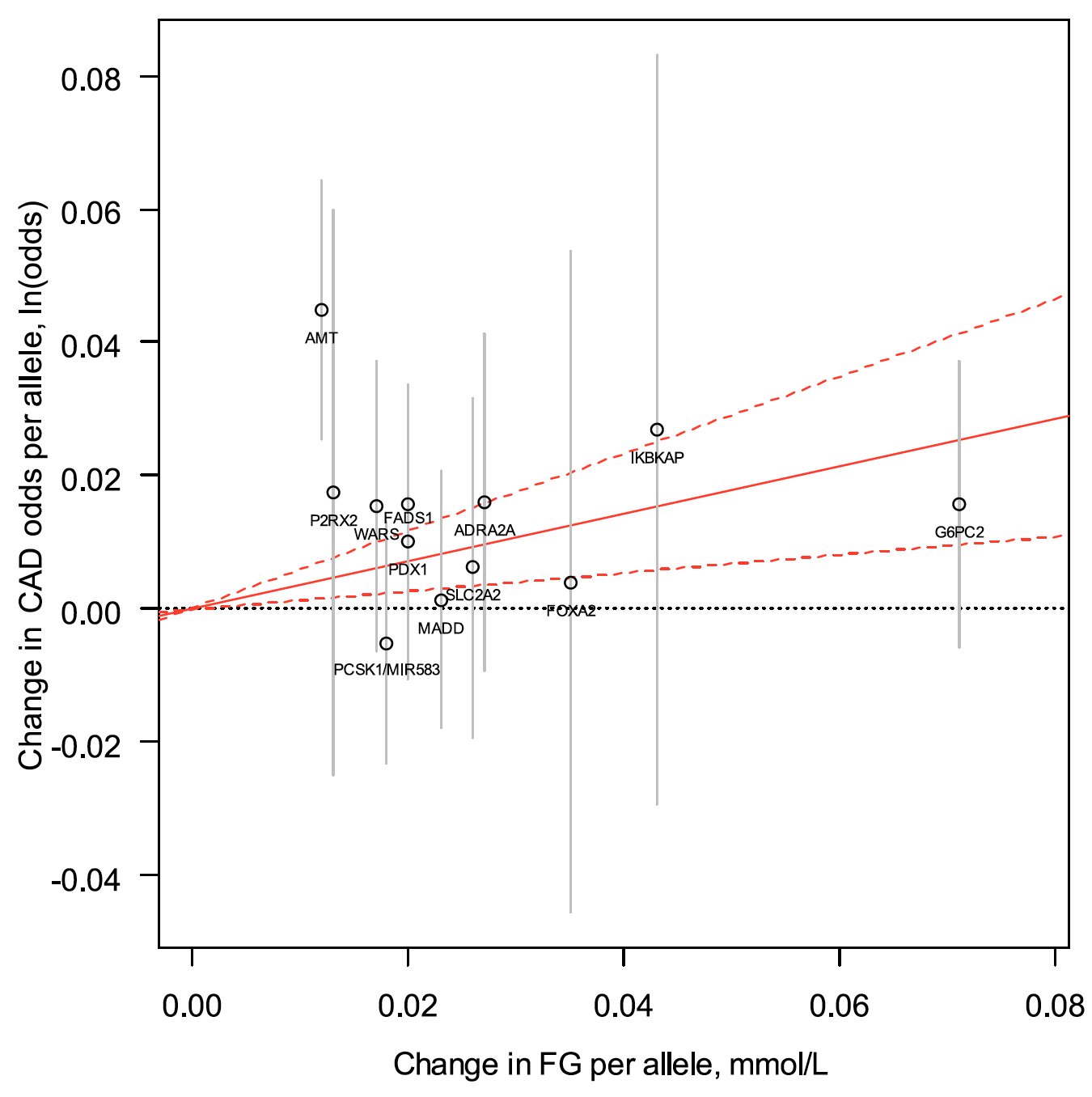 OBJECTIVE:
This study tested the hypothesis that genetically raised hyperglycemia increases coronary artery disease (CAD) risk separately from the risk conferred by type 2 diabetes as a whole.
RESEARCH DESIGN AND METHODS:
We conducted a Mendelian randomization (MR) analysis using summary-level statistics from the largest published meta-analyses of genome-wide association studies (GWAS) for fasting glucose (FG) (n = 133,010 participants free of diabetes) and CAD (n = 63,746 case subjects and 130,681 control subjects) of predominantly European ancestry. FG-increasing variants associated with type 2 diabetes from the largest GWAS for type 2 diabetes were excluded. Variants with pleiotropic effects on other CAD risk factors (blood lipids, blood pressure, and obesity) were excluded using summary-level data from the largest published GWAS. Data from the Framingham Heart Study were used to validate the MR instrument and to build an FG genetic risk score (GRS).
RESULTS:
In an instrumental variable analysis comprising 12 FG-raising variants, a 1 mmol/L increase in FG revealed an effect-size estimate of 1.43 CAD odds (95% CI 1.14-1.79). The association was preserved after excluding variants for heterogeneity and pleiotropic effects on other CAD risk factors (odds ratio [OR] 1.33 [95% CI 1.02-1.73]). The 12 FG-increasing variants did not significantly increase type 2 diabetes risk (OR 1.05 [95% CI 0.91-1.23]), and its prevalence was constant across FG GRS quintiles (P = 0.72).
CONCLUSIONS:
Our data support that genetic predisposition to hyperglycemia raises the odds of CAD separately from type 2 diabetes and other CAD risk factors. These findings suggest that modulating glycemia may provide cardiovascular benefit.
Merino_FG_MR_CHD_DiabetesCare_2017.pdf